Inside a Sprawling 8-Level Manhattan NYC Townhouse with 3 Terraces, an Elevator, & NY Skyline Views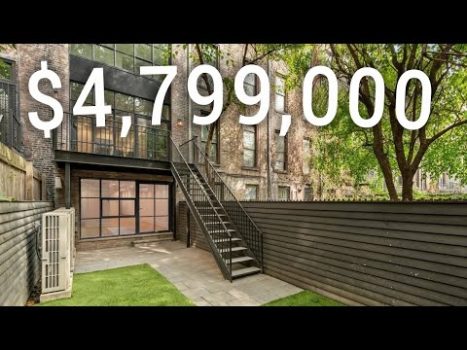 Designed with #luxury in mind, this brand-new renovation boasts floor-to-ceiling windows, five outdoor terraces, and an expansive gourmet kitchen.
Your journey through the main home begins in the living room, outfitted with lustrous hardwood floors, intricate picture molding, and a marble decorative fireplace. Across the way, the kitchen features sleek modern cabinetry, marble countertops, and a full suite of stainless steel appliances, including a double wall oven, gas cooktop, wine cooler, refrigerator, and dishwasher. Just beyond, a stunning glass curtain wall grants you access to the luxurious back deck and yard.
Venture upstairs to discover a total of four-bedroom suites, each boasting sleek hardwood floors, separate closets, and ample natural sunlight. Completely dedicated to the spacious master suite, the fourth floor is home to two private terraces, a palatial master bath, and a walk-through closet. Falling nothing short of convenient living, this home boasts a private elevator and in-unit laundry.
At the apex of the home, you'll find a sprawling recreation area showcasing a powder room and full wet bar. Just outside, a glorious private terrace awaits, complete with a chic outdoor spiral staircase that leads to the home's crown jewel—a roof deck offering unparalleled views of NYC.
Upon entering the garden-level unit, you're greeted by the open-concept kitchen showcasing a Subzero-Wolf gas cooktop and oven, Bloomberg refrigerator, Bosch dishwasher, and Summit wine cooler. Ideal for entertaining, you'll revel in the open layout that leads directly into your living and dining space. A full wall of windows allows an abundance of light to pour in, illuminating this entire level of living. A modern full bath is located just around the corner.
At the opposite end of the home, you'll discover a spacious master suite, overflowing with extra storage and plenty of natural light. You'll fall in love with the tastefully designed master suite. Head downstairs to discover the massive recreation room, perfect for relaxing, entertaining, and hanging out at any time of day. Convenient in-unit laundry and additional storage space completes this unit.
Exceptionally located, this home leaves you within four blocks from the world-famous Apollo Theater, and in close proximity to a bevy of restaurants such as Vinatería and Max Soha. Convenient travel options are also available to you, including the 125th Street subway station, making your commute around Manhattan a breeze.
What are some of the interior design elements that make the townhouse a masterpiece?
New York City is home to some of the world's most impressive and luxurious residential properties. The Manhattan townhouse located at 12 East 63rd Street is a prime example of such a property. The sprawling eight-story mansion exudes class and sophistication with its beautiful architecture, stunning skyline views, and impressive interior design.
Built-in 1878, the home has undergone a complete renovation, retaining its stunning architectural features while incorporating modern luxuries. The townhouse boasts of three outdoor terraces, an elevator, a gym, a sauna, and a wine cellar. An expansive skylight floods the property with natural light, accentuating the spacious and airy feel of the home.
The top floor of the townhouse features a lovely terrace with panoramic views of the New York City Skyline. The stunning views offer the perfect backdrop for any celebration, romantic dinner, or soirée. The terrace is perfect for outdoor entertaining, whether enjoying cocktails with friends or hosting a dinner party under the stars.
With eight stories of living space, the townhouse is ideal for large families or anyone that appreciates room to move. The eight bedrooms offer en-suite bathrooms, high ceilings, and picturesque views of the surrounding areas. The beautifully appointed kitchen is a magnificent space, featuring state-of-the-art appliances and a spacious center island. It is fully functional for preparing quick meals or hosting large dinner parties for up to 100 guests.
The property's fifth floor features a charming terrace facing a lovely tree-lined street, while the sixth-floor terrace boasts of stunning views of Central Park. The upper-level entertaining room is an excellent spot for unwinding, watching movies, or enjoying a family game night. The space is large enough to accommodate a pool table or a second lounge area.
The elevator is a brilliant addition to the home, making it easy to move from one floor to another. The basement level features an impressive wine cellar capable of holding up to 1000 bottles of your finest vintages. The sauna and gym area is excellent for relaxation and fitness enthusiasts, enabling you to stay in shape without leaving the comfort of your home.
The polished interior design features a combination of modern and classic styles with elegant details, such as mosaic tiles, exposed brick, and marble flooring. The grand staircase is a masterpiece with its ornate banisters and railing, and it's a lovely way to move from one floor to another, especially when hosting guests.
In conclusion, the eight-story Manhattan townhouse located at 12 East 63rd Street is an exceptional property that exudes elegance and sophistication. With incredible skyline views and a functional interior design, it represents the epitome of upscale living. Whether raising a family or entertaining guests, this pristine mansion is the perfect place to call home.