Inside a $7.5 Million Dollar Lake Las Vegas Modern Mansion!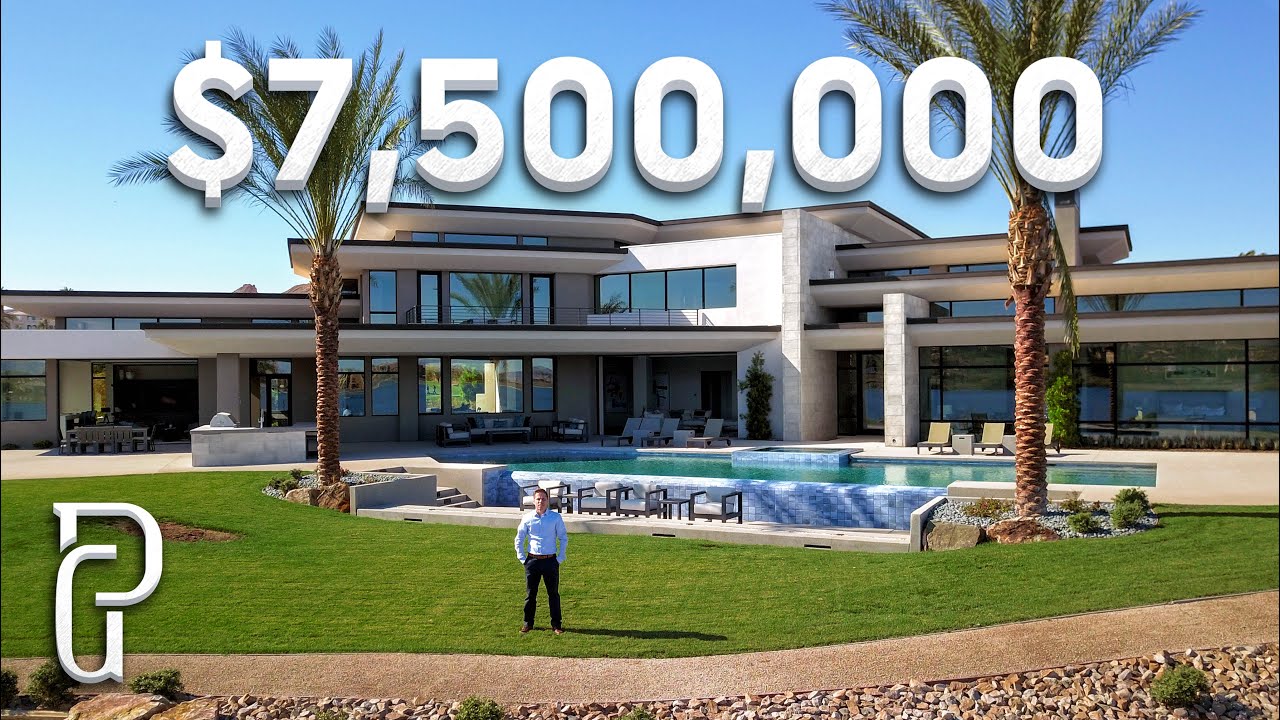 In this luxury house tour, Mike & Jaden take you to 23 Summer House Drive in Henderson, Nevada.
23 Summer House Drive
Property Description: The experience of Water's Edge begins at a private porte-cochere, where upon arrival guests will witness a captivating stone wall, as well the water, golf course and canyons within Lake Las Vegas.
Located in The Estate's on the NorthShore of Lake Las Vegas' new community. "Water's Edge" is positioned on a remarkable location, this 1.21-acre lot is surrounded by nearly 300 feet of waterfront property with a private sandy beach and outstanding views.
The home's modern design was created by Swaback Partners, internationally recognized as the leading architecture firm for Desert Contemporary design. Vern Swaback, the last living apprentice to Frank Lloyd Wright, was involved in the design and his style is evident in the open floor plan, multiple overhangs and highlights of nature throughout the estate.
The exterior also features a dynamic roof and several cantilever groups to provide constant shade, contrasted by high clear story windows to flood the interior of the home with natural sunlight.
This spectacular custom estate is located in Lake Las Vegas, one of Southern Nevada's most desirable Country Club Golf Communities. featuring two championship 18-hole golf courses, two fitness centers & spa with tennis, pickleball & swim complex. Membership to the Lake Las Vegas Sports Club is included, a $10,000 Value.
Located only 30 minutes from the heart of the Las Vegas Strip and McCarran International Airport. Nevada is a state without individual and corporate income taxes offering significant savings for residents.
Location: 23 Summer House Dr, Henderson Nevada
Price: $7,500,000
Bedrooms: 4
Bathrooms: 6
Sqft: 8,838
What are some of the features of the modern mansion that make it perfect for entertaining guests or enjoying quality time with the family?
Nestled within the secluded walls of the prestigious gated community of Lake Las Vegas lies a stunning modern mansion that redefines luxury living. This state-of-the-art home boasts a price tag of $7.5 million and offers breathtaking views of the shimmering lake and towering mountains.
The modern mansion is a work of art and is the epitome of sophistication and class. The breathtaking exterior features bold, geometric shapes and clean lines, creating a modern aesthetic that exudes elegance and grandeur. The expansive windows invite natural light to flood the living space, creating a sense of airiness and tranquility.
Upon entering this luxurious abode, you are greeted with a sense of serenity and calmness. The open floor plan allows for free-flowing movement throughout the house, making it perfect for entertaining guests or enjoying quality time with the family. The living room features a dramatic fireplace and floor-to-ceiling windows that offer stunning views of the lake and mountains.
The kitchen is the centerpiece of this home and is a chef's dream come true. The open concept layout allows for seamless transitions between the kitchen and living areas, making it perfect for entertaining. The kitchen flaunts top-of-the-line stainless steel appliances, custom cabinetry, and high-end fixtures. The massive island provides ample space for food preparation, while the built-in wine cooler and bar ensure that guests are always well catered for.
The exquisite modern mansion features four bedrooms and five bathrooms. The spacious master suite provides a private spa-like retreat, complete with a lavish soaking tub, a rainfall shower, and a cozy fireplace. The ensuite bathroom boasts a double vanity with custom marble countertops, exquisite fixtures, and a custom closet system that ensures organization and luxury.
The outdoor living space is a true oasis, containing a stunning infinity pool and spa, an outdoor kitchen, and multiple seating areas. The breathtaking views of the lake and mountains serve as a picturesque backdrop to this luxurious outdoor space.
This modern mansion is the perfect fusion of luxury, style, and modern living. It is a true masterpiece of design, functionality and construction that stands out in a prestigious community of Lake Las Vegas. The price tag of $7.5 million may seem steep, but for those who value the finer things in life, this luxurious modern mansion is worth every penny.