This Crazy Tree Grows 40 Kinds of Fruit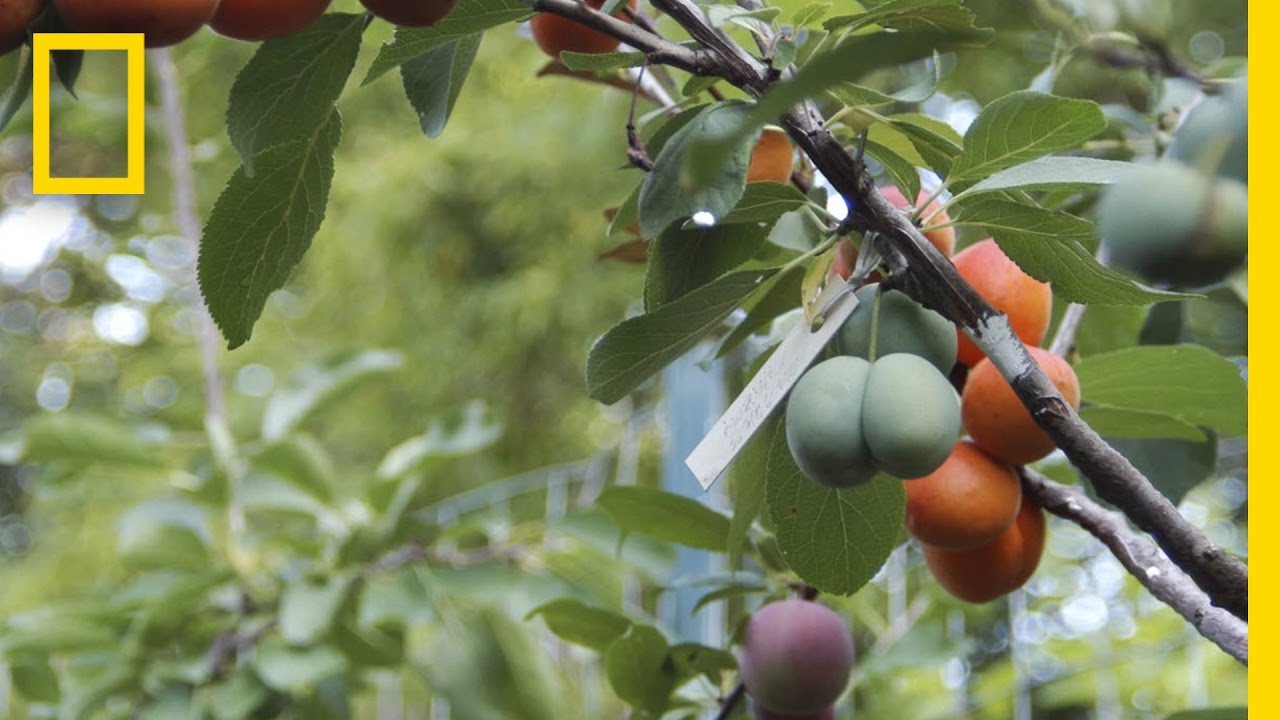 Sam Van Aken, an artist and professor at Syracuse University, uses "chip grafting" to create trees that each bear 40 different varieties of stone fruits, or fruits with pits.
The grafting process involves slicing a bit of a branch with a bud from a tree of one of the varieties and inserting it into a slit in a branch on the "working tree," then wrapping the wound with tape until it heals and the bud starts to grow into a new branch. Over several years he adds slices of branches from other varieties to the working tree. In the spring the "Tree of 40 Fruit" has blossoms in many hues of pink and purple, and in the summer it begins to bear the fruits in sequence—Van Aken says it's both a work of art and a time line of the varieties' blossoming and fruiting. He's created more than a dozen of the trees that have been planted at sites such as museums around the U.S., which he sees as a way to spread diversity on a small scale.
What inspired Sam Van Aken to create the 'Tree of 40 Fruit'?
In upstate New York, a tree is catching the attention of the world due to the unusual and remarkable features it offers: a tree that grows 40 different types of fruit! For those who are wondering, this is not a magical tree, but a cleverly cultivated one, which is a result of years of hard work and dedication.
The man behind this incredible feat is Sam Van Aken, a Syracuse University art professor and practicing contemporary artist. He started developing the tree in 2008, by grafting small buds or branches from different fruit trees onto a single tree to create a composite tree. This process is known as 'grafting' and is a common method among horticulturists. However, Van Aken took this practice to new heights by grafting several varieties of fruits onto a single tree, giving it the ability to generate a diverse array of fruits.
The tree is named the 'Tree of 40 Fruit' due to its various fruits, which include cherries, peaches, plums, nectarines, apricots, and almonds, to name a few. Van Aken's art and scientific background helped him select the types of fruits that he wanted to plant and ensured that they were compatible with each other. This technique took him an arduous five years to complete.
Apart from being a fruitful tree, the 'Tree of 40 Fruit' is also a work of art. It blooms in different colors at different times of the year, creating a stunning sight for garden enthusiasts. Van Aken cultivates the tree in a specific way, so that the tree also serves as an artwork that changes with the seasons. The branches are pruned to form a unique shape that can only be described as 'sculptural.'
Van Aken's impressive creation has not only been a commercial success but has also been recognized for its artistic and scientific merits. His creation is also an excellent example of sustainable farming as it boosts the production of several fruits from a single tree, and hence saves space and valuable resources.
The 'Tree of 40 Fruit' serves as an inspiration for horticulturists and nature lovers worldwide, as it demonstrates the ability of fruit trees to adapt and evolve into something new and wondrous. It not only provides a visual feast but also a bountiful harvest, marking it as an innovative and beneficial creation that holds limitless potential.
In conclusion, Van Aken's 'Tree of 40 Fruit' is indeed crazy, but in the best way possible. It is an innovative and inspiring creation that celebrates the beauty and potential of nature. It has become a symbol of creativity, sustainability, and the possibilities that arise when we push the boundaries of science and art.