Earth-cooled, shipping container underground CA home for 30K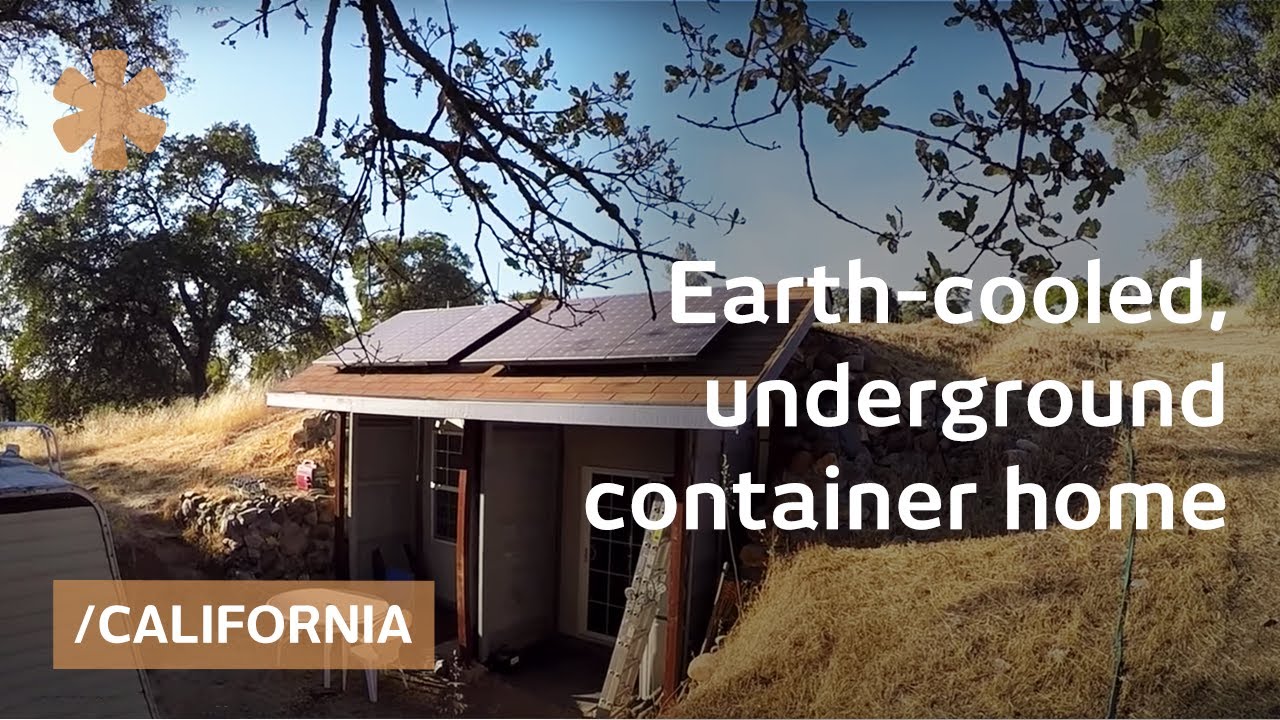 As a kid Steve Rees played in caves and learned how the earth could cool.
As an adult, he buried two shipping containers and created an off-grid retirement home for himself and his wife Shirley.
After a few years of camping on their 10 acre plot in Northern California, they bought two shipping containers, hired an excavator and got to work. Doing most of the work themselves, their finished home cost them $30,000 (solar included). Their 640-square-foot space cost them less than $50 per square foot.
Rees explains that while this is less than conventional construction costs, the savings only begin with construction. With a solar-powered well, a bit of propane and solar tubes for most of their light, they haven't had any city water or electric bills since 2002. Winter temperatures in their home (even during 20 degrees outside) never fall below 62 degrees (an RV catalytic heater is sufficient for heating). Even when the temperature rises to 110 outside in the summer, their home has never risen above 82 degrees.
When they asked the county about permitting they were told they "didn't have a permit for burying containers". They have been inspected since completing their home and they have a permitted septic system and a permitted well, just no permit for a single family dwelling.
How does living in the earth-cooled, shipping container underground CA home reduce carbon footprint and promote a more sustainable lifestyle?
With the rising demand for sustainable and affordable housing, a new trend in eco-friendly living has emerged in recent years – the use of shipping containers as building foundations. These containers, made from durable steel, have proven to be an efficient and cost-effective solution to the housing crisis. One of the latest innovations in this field is the creation of an earth-cooled, shipping container underground CA home for just $30,000.
This low-cost home was designed and built by Paul Chambers, an architect with the Texas-based firm, Architecture and Design. The project aimed to provide affordable, sustainable housing for people seeking to live off-grid, away from the pressures of urban life. Chambers' design philosophy involves utilizing natural energy sources such as the sun, wind, and earth to create self-sufficient and harmonious living spaces.
The underground CA home is constructed by digging a large hole, big enough to accommodate shipping containers, and then installing them underground. The containers are bolted together to form a solid foundation, then covered with a layer of earth, creating an insulating effect. This method of construction can save up to 80% on energy costs, as the earth maintains a constant temperature of around 55-60 degrees Fahrenheit, providing natural cooling and heating.
To make the home even more energy efficient, Chambers installed a solar panel system to generate electricity, a rainwater catchment system to collect water, and a composting toilet system to reduce water usage. The living space is small but functional, with a bed, a kitchenette, and a living area, all contained within the shipping containers.
The underground CA home is not only an affordable and sustainable housing solution, but it is also a statement about our changing relationship with the environment. By living in a self-sufficient way, homeowners reduce their carbon footprint and live in harmony with nature. This innovative design also encourages people to think creatively about how they can use existing resources in new ways, and to embrace a minimalist lifestyle that focuses on what is truly necessary.
As we face the challenges of climate change and the housing crisis, the earth-cooled, shipping container underground CA home is a beacon of hope. It shows that sustainable, affordable housing is possible and can be achieved with imagination, resourcefulness, and a commitment to living in harmony with the earth.