Arkansas traffic-stop shootout caught by dashcam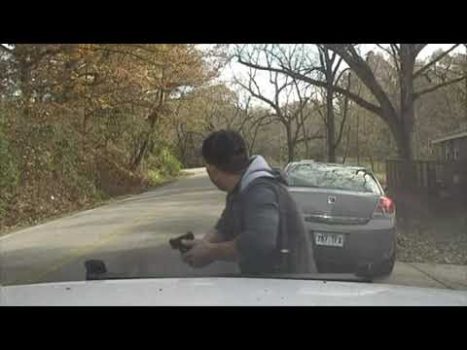 Dramatic dashcam video shows a sheriff's deputy in a shootout following a traffic stop in Arkansas.
About 40 shots were fired during the shootout Sunday. The suspect was later caught and faces attempted murder and other charges.
How did the Arkansas State Police trooper respond to the shooting by Jerry Don Elders?
On July 11, 2021, a traffic stop in Arkansas resulted in a harrowing shootout that was caught on dashcam footage, shedding light on the dangers that police officers face on a daily basis.
The incident occurred at around 10:45 p.m. when an Arkansas State Police trooper pulled over a white Chevrolet Tahoe for a traffic violation on Highway 270 near Mount Ida. As the trooper approached the vehicle, the driver, identified as 49-year-old Jerry Don Elders, opened fire with a handgun, striking the trooper in the leg.
The trooper immediately returned fire, taking cover behind his patrol car, while Elders fled the scene. Backup officers arrived shortly afterward, and a high-speed chase ensued, with Elders firing shots at pursuing officers along the way.
The chase ended when Elders crashed his vehicle into a ditch and continued to exchange gunfire with officers. After a standoff that lasted several minutes, Elders was shot and killed by police.
The entire incident was captured on multiple dashcam and body-worn camera footage, providing a firsthand account of the shootout. The footage shows the trooper pulling over Elders' vehicle, and a brief conversation between the two before Elders suddenly pulls out a handgun and starts shooting.
The trooper can be seen taking cover and returning fire, while Elders continues to shoot at him. The footage also captures the subsequent chase and exchange of gunfire, as well as the tense standoff before Elders was fatally shot.
The footage has been widely shared on social media and has sparked debate over the use of dashcam and body-worn cameras by law enforcement. Supporters argue that the footage provides transparency and accountability, while critics argue that it can be used to justify excessive force by police.
Regardless of the debate, the footage of the Arkansas traffic-stop shootout serves as a stark reminder of the dangers that police officers face on a daily basis while carrying out their duties. It is a testament to the bravery and dedication of law enforcement officers, who put their lives on the line every day to protect the communities they serve.